Description of Services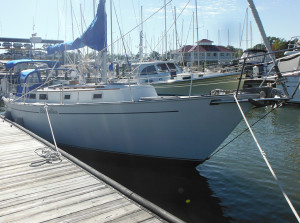 What is Included in a Survey?
A full survey of a yacht involves a detailed inspection of all "systems" in the boat to determine the condition and operation of the vessel. The vessel is evaluated for compliance with federal regulations established by the US Coast Guard and with yachting standards as established by the American Boat and Yacht Council (ABYC). The suitability of the vessel for the intended use is evaluated. The value (purchase and replacement) is determined, based on condition and recent market prices for similar vessels, in similar condition in similar geographic area. This information is based on nationwide data of recent actual boat sales.
A thorough survey will take several hours, depending on the size of the vessel and the amount of information that will be reviewed with the buyer. The surveyor than spends several hours writing up notes, preparing the report, referencing standards and obtaining fair market values.
The "end product" is a written report that includes all observations and comments on any problems and issues with recommendations. The report will include photographs of any areas which deserve special comment or note. Your personalized survey report is usually delivered within 24 to 48 hours of the inspection.
NEW: We use the Diacom Marine engine diagnostic software system to diagnose engine issues, retrieve codes from the ECM etc., which is included in most surveys. Not too many surveyors have the ability to do this!
Also Included: Captain Bill provides a thorough hands on training session on all of your boats systems, which is also included in your survey. Again, not something that most surveyors will do.
Systems that are normally evaluated include:
Hull and Deck (inside, outside, hull-deck joint, thru-hull fittings)
Propulsion (engine(s), controls, transmission(s), shaft(s), propeller(s), exhaust, cooling)
Steering (linkage, control, rudder(s), shaft(s))
Electronics (radios, navigational equipment, instruments)
Electrical (12v DC, 120v AC, genset, panels, wiring, lights)
Plumbing (fresh, salt, sanitary)
Bilge Pumps (manual, mechanical)
Tanks (fuel, water, sanitation)
Rigging (winches, cleats, lines, blocks, rigging and mast up to 6 feet above deck)
Ground tackle (anchors, rode, windlass)
Safety Equipment (U. S. Coast Guard requirements)
Documentation
Miscellaneous (heating, A/C. audio/visual, etc.)
The survey purchaser may elect to have a "sea trial". Here the surveyor evaluates the vessel while under way.
What is Not Included in a Survey?
The surveyor will not remove panels or other attached equipment requiring tools. The surveyor is not responsible for moving personal and boat equipment for access to compartments and other areas that should be inspected. It is the responsibility of the survey purchaser to make these arrangements.
The surveyor inspects for the operation of engine(s), electronics and rigging. If an in-depth survey or analysis of any of these areas is required, specialists must be retained separately.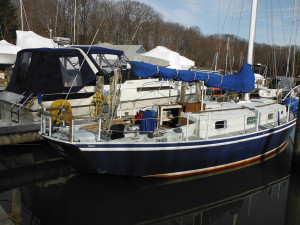 Other Services Provided
Oil Analysis:
An optional oil analysis can be very beneficial in determining the internal condition of engines and transmissions and saving the expense of hiring an engine surveyor. The oil analysis report can identify internal problems. The report is usually ready within a few days and can be shared with an engine surveyor or mechanic to determine necessary repair costs.
Monitor:
Repair of blister, deck, transom, or any other projects by mapping out the hull, topsides, decks and other areas of concern. Taking moisture meter readings before work starts to establish a base line followed by periodic moisture meter readings throughout the project to ensure the drying process is complete before products are applied to the vessels surfaces.
Monitor:
Re-powering and refitting projects to ensure all equipment is installed according to Coast Guard requirements and ABYC recommendations and standards.
Deliveries of vessels:
If a new or used vessel needs delivered by the waterways for a customer, builder, or broker, put Captain Bill's experiences and expertise to work for you.
Training:
Training on your vessel: Whether you are new to boating or moving up to a larger vessel, Captain Bill is a USCG Licensed Master and will train you on your vessel from basic rules of the road, maneuvering, navigation, anchoring, and to docking your vessel at your slip. Training will prepare you to safely enjoy the waterways with your family and friends.
East Coast Marine Consulting is a boat survey consultant in Baltimore that does boat surveys, boat insurance inspections, boat damage inspections, pre-purchase boat inspections, and boat appraisals. For more information call us today at 410-322-6701.
Boat Survey Baltimore Service Area Includes:
Baltimore,Havre de Grace, Aberdeen, Dundalk, Baltimore, Middle River, Severna Park, Annapolis, Deale, Kent Island, North East, Chesapeake Bay, Stevensville, Edgewater, North Beach, Shady side, Chesapeake Beach, parts of Delaware and Virginia