Types of Surveys
Boat Inspection in Aberdeen
Pre-Purchase, Condition and Value (C&V) Survey
A prospective buyer is contemplating a significant investment. The buyer will want to know the condition and operation of all systems; the condition of the hull, rigging, propulsion, steering, electrical system, plumbing, sanitation, etc. This is a very comprehensive survey and covers all aspects of the vessel including; documentation, fair market value, replacement value and provides an assessment of the overall maintenance and condition of the vessel.
Insurance or Finance Survey
Banks and insurance companies often want a survey by an independent third party to determine whether the vessel that is being financed or insured is in sound condition and properly maintained. In short, is it an acceptable risk? The survey will address whether there is structural integrity, whether the vessel fit for the intended use, and what is the fair market value and the replacement cost. The extent of this survey, will depend on the requirements of the insurance company or financial institution and may or may not be a full C & V survey.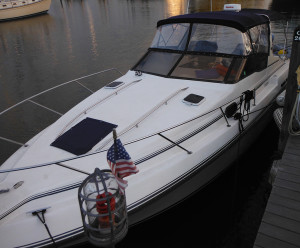 Damage or Claims Survey
A claims survey will assess the extent of damage, recommended repairs, determine probable cause, and estimated cost of repairs.
Appraisal Survey
This type of survey is for purposes of establishing a value for the vessel for the purpose of sale; donation, estate valuation, etc. It is not as comprehensive as the other surveys. The value of the vessel is determined by the overall appearance and condition and the fair market value as evidenced by recent sales of similar vessels.
NEW: We use the Diacom Marine engine diagnostic software system to diagnose engine issues, retrieve codes from the ECM etc., which is included in most surveys. Not too many surveyors have the ability to do this!
Also Included: Captain Bill provides a thorough hands on training session on all of your boats systems, which is also included in your survey. Again, not something that most surveyors will do.
---
Our company does boat survey in Baltimore. We offer different types of surveys listed above. Feel free to contact us.
East Coast Marine Consulting Service Area Includes:
Baltimore,Havre de Grace, Aberdeen, Dundalk, Baltimore, Middle River, Severna Park, Annapolis, Deale, Kent Island, North East, Chesapeake Bay, Stevensville, Edgewater, North Beach, Shady side, Chesapeake Beach, parts of Delaware and Virginia