Marine Surveyor in Kent Island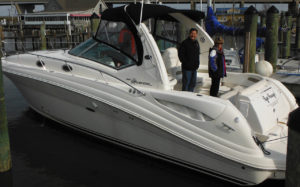 Many people dream of owning a boat and sailing off into the sunset. If you are one of those people, there are many things to consider before you sign that purchase agreement. We recommend hiring a marine surveyor in Kent Island to handle your vessel inspection.
At East Coast Marine Consulting, we carry out an inspection and provide a detailed, unbiased report on the current condition of the vessel. We have more than 17 years of experience in the boat surveying industry. We are recognized as an Accredited Marine Surveyor (AMS) in the Society of Accredited Marine Surveyors (SAMS).
Why Obtain a Boat Inspection Survey?
We are dedicated to safe boating practices and have conducted hundreds of surveys for various reasons. Boating is meant to be fun. We strive to ensure your vessel is in good, running condition by always completing a thorough boat inspection for our clients because walking out back to find your boat underwater would ruin anyone's day.
Marine Pre-Purchase Boat Survey
A pre-purchase survey or a Condition and Value (C&V) Survey is our most comprehensive vessel survey. We highly recommend taking advantage of this inspection conducted before purchasing a boat or yacht. This extensive survey includes inspection of the following:
Rigging
Electrical System
AC and DC Power Systems
Propulsion System
Fuel System
Machinery
Hull Condition
And much more!
The following is provided in our pre-purchase boat inspection:
Documentation
Fair market value
Replacement value
Assessment of overall maintenance
Current condition of vessel

Finance Survey
Financial institutions often request finance surveys when an individual expresses interest in purchasing, selling, or refinancing a boat or yacht. Our boat survey specialist carries out an inspection and presents unbiased information to the institution. We provide the current value of the vessel, if the boat has been maintained, and current condition.
Appraisal Surveys
Boat appraisal surveys are conducted to determine a vessel's value. Typically, owners seek out a value survey when they are interested in selling, donating, or estate valuation. These surveys consider appearance, condition, and fair market value when establishing overall worth. Appraisal surveys are not nearly as comprehensive as a C&V survey but allow you to establish worth.
Damage Inspections Survey
A damage survey is exactly what it implies—an inspection of the extent of damage done to your boat. We examine your boat for probable cause and recommend repairs. If you would like an inspection to ensure the proper repairs were made to the boat, we can set up an appointment for our boat inspection expert to conduct another inspection.
Insurance Survey
Once you have purchased a boat, you will need to obtain insurance in the event it incurs damage. Insurance companies request an independent insurance survey for the purpose of finding the current value, marine risk, and a list of inventory. It is conducted prior to new coverage issuance and insurance renewals.
Speak With a Boat Appraisal Expert Today!
When you use a boat appraisal specialist with East Coast Marine Consulting, you will receive top-notch service and a comprehensive inspection of your vessel. To receive more information or to schedule an appointment with an expert marine surveyor in Kent Island, speak with one of our professionals by calling (410) 322-6701.