Frequently Asked Questions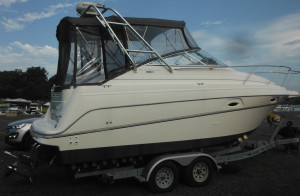 How do I choose a boat surveyor?
Anyone can title him or herself as a Marine Surveyor and start a business. Certified marine surveyors are permitted to use designations denoting membership in accrediting organizations that require members to meet strict professional, technical and ethical standards.Captain Bill Weyant will provide you with a professionally prepared report that can be accepted by your bank and/or insurance company. ABYC, NFPA and USCG standards are followed in surveys prepared by Captain Bill Weyant.A thorough inspection will not be rushed and will depend on the type of survey required based on vessel size, equipment and on-board systems. Well-conducted surveys provide good information on the vessels' condition but are not guarantees. The surveyor reports the condition in accessible areas as it exists at the time of inspection.Why should you have a vessel surveyed?
Most insurance companies and banks will require surveys on most vessels. They will need to know the boats condition and fair market value in order to finance and/or underwrite the vessel. Knowing the boats condition and fair market value before you purchase is important. However, the most important reason to survey your vessel is for the safety of the passengers and crew.What are the three parts of a survey?
Surveys consist of three distinct aspects:
In Water Inspection

Haul-out

Sea Trial.
No survey is complete without performing these three aspects. The sea trial involves not only performance testing the vessel and its engines, but is also the time when many major systems are checked out. In addition, the surveyor will also check out the internal hull structures, bulkheads, stringers, and tabbing are structurally sound.
How do I prepare for a survey?
Arrange to present a clean, shipshape boat and have all documentation ready for review. If applicable, you will need to make arrangements with the marina to haul the vessel for bottom inspection and retain a captain for a sea trial. Lockers and cabin areas should be cleared of all miscellaneous gear.
The surveyor may request minor dismantling of interior ceilings, headliners, flooring, etc. in order to gain access to any suspected areas. Any dismantling and re-installation of parts should be performed by qualified personnel and is the responsibility of the person ordering the survey.
Who pays for what?
The buyer is responsible for the survey fee and the hauling charges (A boat with a very dirty bottom needs to be cleaned. A pressure wash is typically the responsibility of the buyer.) NOTE: Check with the marina management for schedules and pricing of your haul-out. The seller is responsible for the cost of someone to operate the vessel such as a paid captain, and insuring that the vessel has adequate fuel.
How long does it take?
The time involved is more a factor of the condition of the boat than anything else. Usually a full day is scheduled to complete the survey sufficiently. Small boats are not necessarily easier to survey than larger ones since the same logistics are involved.
What is an engine survey?
Clients will ask, "Do you survey the engines too?" The answer is yes and no.
Gas and diesel powered vessels:
Rudimentary engine surveys are performed. A complete visual inspection and a performance test of the engine(s) are done. While this may not seem like much, an expert can learn a lot just by observing the condition of hoses, belts, fluids, risers, manifolds, etc. If requested, an oil analysis on diesel and gasoline engines, transmissions, generator and out-drives will be done to determine if further investigation or testing is required.Most surveyors do not perform compression testing of diesel or gasoline powered engines. Diesel engines especially are more complex and usually larger. It is highly recommended that an independent diesel surveyor be engaged for full diesel surveys.
Why do I need a sea trial?
On the sea trial, not only is the engine and overall vessel performance evaluated, testing is done on; steering, controls, shafting, engine mounts and exhaust systems. While under load, structural hull elements are examined. On sailboats, the overall sailing systems are tested and evaluated for condition and proper tuning. It is recommended that an open water sea trial be carried out for at least one hour, but longer for larger yachts. [Because of liability risks, it is at the seller's discretion, when sea conditions are rough, if a sea trial will be conducted in open water.]
---
Boat Surveyor Havre de Grace
East Coast Marine Consulting does boat appraisal in Havre de Grace. Captain Bill Weyant will do a well-conducted survey to provide good information on the vessels' condition but there are no guarantees.
East Coast Marine Consulting Boat Survey Area Includes:
Baltimore,Havre de Grace, Aberdeen, Dundalk, Baltimore, Middle River, Severna Park, Annapolis, Deale, Kent Island, North East, Chesapeake Bay, Stevensville, Edgewater, North Beach, Shady side, Chesapeake Beach, parts of Delaware and Virginia